Sandhills Chapter Compatriot Rod Herbig Receives DAR National Award
Revolutionary War – Spy Craft – Sandhills Compatriot, Dr. Mike Marsh
Sandhills Chapter Compatriots and Color Guard Unit was invited to attended the Temperance Smith Alston(TSA) DAR Chapter (Pinehurst) Annual Awards and Recognition meeting on May 21st, at the Pinehurst Country Club. The Sandhills Chapter Color Guard Unit presented the colors during the opening ceremony. NCDAR State Regent – Anna Baird Choi attended and participated in swearing in ceremony of the new TSA Board of Officers
This meeting included the installation of a new TSA Board of Officers (2022 – 2024) and honored the outgoing Regent, Jacqueline Wade for her Outstanding service for the past two years. DAR Daughters, Deborah Blackwood of Pinehurst was elected Regent XXXXXXX. We look forward to our continued support, coordination, and collaboration on future patriotic events and projects with the new TSA DAR Board.
Sandhills Chapter President – Bruce Fensley, presented SAR Greetings and provided a historical overview of the Sons of the American Revolution, the NC State Society, and the Sandhills Chapter. He also announced that the North Carolina Society had be chosen to Host the 2026 SAR National Congress at Greensboro, NC.
He also presented outgoing Regent Jacqueline Wade with the SAR Medal Set and Certificate of Appreciation for her on-going outstanding support of the Sandhills Chapter since it's Charter Ceremony in the Fall of 2020. Jacqueline will be assuming a position on the National DAR Board in Washington DC.
The Sandhills Chapter Color Guard was recognized receiving a TSA Chapter Streamer for their continued support of the Temperance Smith Alston DAR Chapter throughout the year.
Sandhills Color Guard Participants were: Ramsey Blanks, Jack Laflin, Rod Herbig, and Bruce Fensley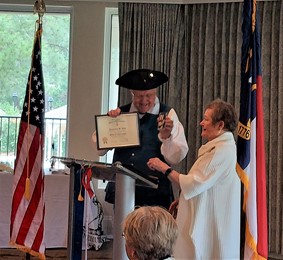 Sandhills Chapter President Bruce Fensley presents the SAR Medal of Appreciation to out-going TSA Regent, Jacqueline Wade
Jack Laflin congratulates Jacqueline Wade