Memorial Day Observance
Chapter Dinner – June 20th
On May 23, 2022, Members of the Sandhills SAR Chapter were honored to be invited to the Town of Aberdee Board of Commissioners Meeting by Mayor Robert Farrell, to present the Sandhills Chapter of the Sons of the American Revolution Heroism Medal and Certificate to Aberdeen Police Lieutenant Jesse J. Smith.
Lt. Jesse Smith was recognized for his Outstanding life saving bravery on the Morning of March 5th, 2022, on Rt#1 in Vass, NC that saved a middle aged gentleman's life who's vehicle veered off the road, broke through a wooden fence, and finally stopped far into a group of pine trees. The injured gentleman was trapped in the wrecked vehicle for a number of hours. Later, Driving South on Rt#1, Lt. Smith notice the break in the fence and pulled over to investigate scene. Lt. Smith walked down through the pines to the wrecked car and found the gentleman injured in the vehicle and unable to exit. Lt. Smith called for medical and emergency support to extract the gentleman and to get him treatment.
This is not the first act of heroism for Lt. Smith's first. In 2019, Lt. Smith saved a homeowner from an out of control home cooking fire.
Our Public Servants perform many life saving acts for our communities, 24 hrs day / 365 days and rarely get sufficient thanks or recognition. Congratulations Aberdeen Police Lt. Jesse J. Smith.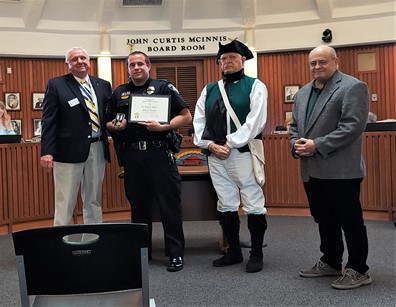 (Pictured L- R: Sandhills SAR Chapter President – Bruce Fensley, SAR Heroism Award Recipient, Police Lt. Jesse J. Smith, Sandhills Chapter Registrar- Jack Laflin, and Sandhills Chapter- Public Service Awards Committee Chairman – Mark Townsend.)